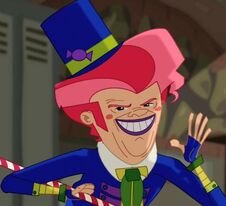 Gary
Gumdrop (voiced by
Adrian Truss
) - People call him the ultimate candy man, but he's just a crazy man with a big sweet tooth and a lot of rotten teeth. His plan is to make super tooth-rotting candy, pretending that they'll take care of your teeth, and distribute them to everyone, so he won't be the only one with a rotten mouth and a large craving for candy. Most of the time he wears a disguise with fake teeth. He is a parody of Willy Wonka.
First Appearance: Episode 40 ("Candy Isn't Dandy") also known as the crazy candy man
He try's to trick kids by making rotting candy look like normal candy
Ad blocker interference detected!
Wikia is a free-to-use site that makes money from advertising. We have a modified experience for viewers using ad blockers

Wikia is not accessible if you've made further modifications. Remove the custom ad blocker rule(s) and the page will load as expected.