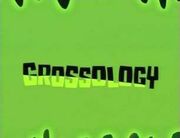 Please be patient as Grossologist merge this page with the main Grossology homepage.
Grossology is a Canadian animated television series produced by Nelvana, and based loosely on the non-fictional children's book series of the same name by Sylvia Branzei. It debuted on the YTV network in Canada on September 29, 2006, and was first shown on Discovery Kids (now Hub Network) in the United States on January 13, 2007. It also aired on Jetix on June 2, 2007 and Kix! from September 15, 2008 in the United Kingdom; in Nickelodeon last March in South East Asia, and aired on ABC TV in Australia in December 2007.
The first season consists of 26 half-hour installments, and the second season has premiered on September 2008. The principal character designs were done by Faruk Cemalovic.
The French title of this series in Canada is Glurp Attack.
Ty and Abby are a teen brother and sister crime-fighting team who report to the Bureau of Grossology, a secret government facility whose job is to protect the city from disgusting villains and their gross crimes. Each episode of the series follows the pair on adventures based on real scientific facts. Aided by their friend Lab Rat (a human scientist) and their boss The Director, Ty and Abby work to keep the city safe, all while keeping their identities hidden.
Characters
Edit
Major charactersEdit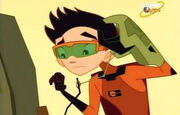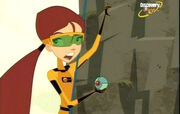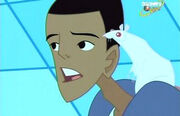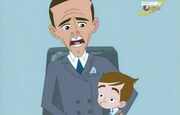 Supporting charactersEdit
Main article: Episode list
Gallery
Roles
Actors
Episodes
Main Cast


Tyler "Ty" Archer/Grossology
Michael Cohen
39


Abigail "Abby" Archer/Grossology
Krystal Meadows
53
Recurring Roles
Paul "Lab Rat" Squirfenherder/Grossology
M. Christian Heywood
30
The Director
Paul O'Sullivan
30
The Detective
Danny Wells
6
Villains
Cara Chitin/Insectiva
Lili Francks
1
Slim/The Slim Slime Man
Danny Wells
2
Larry/Fartor
Sean Cullen
3
Joseph Puglowski/Sloppy Joe
George Buza
4
Helena Globin/The Scab Fairy
Jessica Holmes
5
Lance Boyle/Lance Boil
Juan Chioran
6
Keith Van Kobbler
Pat Mastroianni
9
Mr. Fowler
Derek McGrath
10
Chester/Kid Rot
Travis Ferris
13
Dr. Cornelius Colon
Peter Keleghan
18
Far-Ty
James Franco
20 & 21
Frankenbooger
Frank Welker
24
Darko Crevasse
Julian Richings
25
Sarah Senia
Jayne Eastwood
26
Arachnidia
Maria Vacratsis
27
Frederick Follicle
Stephen Ouimette
31


Roger Nike/Roger Pink-Eye
Lyon Smith
33
Basso Profondo
Ben Campbell
39
Gary Gumdrop
Adrian Truss
40
Gundy Mac Goober
Bruce Pirrie
42

Evil Clone Abby
Grey DeLisle

46 & 47